Infiniti
Our stylish Infiniti Waterproof LCD TVs have the flexibility of being either recessed or wall-mounted (using a vesa-bracket). They also have a high Waterproof-Rating of IP67, making these complete-sealed-units safe for use in any wet environment and perfect for the bathroom, kitchen or even outdoors!
Offering a modern design, Infiniti Waterproof units are available in 7" or 19"* wide-screen, with Digital TV & Digital Radio built-in.
*The 19" Infiniti TV is HD Ready, comes with Bluetooth connectivity (for music devices) and is available in a choice of 'clear' or 'mirror' finish screen.
TechVision Infiniti TV units come with 2x Waterproof Ceiling Speakers and a fully Waterproof Remote Control.
Product Gallery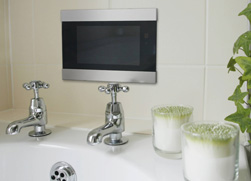 Click on the above image to view a gallery of images from the TechVision Infiniti Range.
Perfect for the bathroom...
Our Infiniti units are the perfect bathroom TV. Waterproof TVs with high resolution LCD displays, available in 7" or 19", with heated glass screens to prevent condensation.