Outdoor Range
Our Outdoor Monitors are fully waterproof, with a rating of IP65, they can operate in the harshest of environments.
The units are wall mounted (using 200 x 200 vesa-fixings) and have toughened glass screens for added protection. These screens come with high bright panels, or for use in exceptionally bright areas, they can be made with sun-readable screens.
These Outdoor units are perfect for use in gardens, beer gardens, outdoor smoking areas or indeed any other wet/humid entertainment space!
Please note: these units are made-to-order for trade customers only (min order 10 units). They do not include any TV tuners and are intended for use with existing cable/satellite equipment systems.
Product Gallery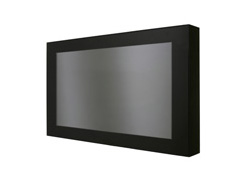 Our Outdoor range is not available to purchase online, please contact us directly with any enquiries.
Perfect for the beer garden...
Our outdoor range of waterproof TVs are perfect for beer gardens, gardens, or any other wet environment. Available in a wide range of sizes with toughened glass and sun readable screens.