Budget 7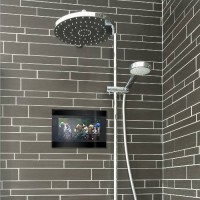 TechVision's newly upgraded 7" Infiniti TV offers affordable luxury for bathroom projects with a limited budgets, being the smallest waterproof TV in their Infiniti range. Now all hotel guests can enjoy watching TV in the bath, after a hard days shopping, sightseeing or meeting with business associates!
The TV itself is fully waterproof and perfect for use in the any wet area, i.e., bathroom, spa, washroom or outside. The heated, toughened glass screen comes with a choice of 'finishing strips' to match your décor.
Installation is simple, as it's already a sealed unit! The TVs can either be recessed into the wall or wall mounted, using a vesa bracket.
See the 'Infiniti' and 'Support' pages on our website for further details.
Date published: 14.09.2011
We were asked by the Mercure Hotel (Bristol) to come up with a 7" bathroom TV, to match an existing, but
We were asked for 7" units, which could be securely fitted using vesa-brackets, by GM Police, for use in
A number of TechVision 7" Infiniti Waterproof TVs, have been installed in washrooms at Liverpool Football