Fisherbeck Hotel use TechVision Bathroom TV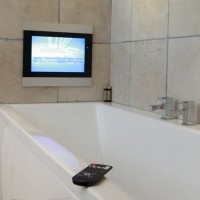 The Fisherbeck Hotel, situated in Ambleside, Lake District, have installed our 17" Infiniti Bathroom Televisions in their newly refurbished superior bathrooms.
Their guests can now benefit from the ultimate in bathroom luxury.
Why not install a stylish Waterproof TV from our 'Infiniti range' in your next bathroom refurb?
Date published: 15.11.2010
We were asked by the Mercure Hotel (Bristol) to come up with a 7" bathroom TV, to match an existing, but
We were asked for 7" units, which could be securely fitted using vesa-brackets, by GM Police, for use in
A number of TechVision 7" Infiniti Waterproof TVs, have been installed in washrooms at Liverpool Football