Framed Mirror
Please note this unit is only available for projects with a minimum order of ten units.
When it's off it's a mirror, when it's on it's a TV! Our framed mirror TV is water proof rated to IP67 and suitable for all wet environments. The TV has a grey style mirror finish so that it appears to be a mirror when turned off. The high bright screen has the power to punch through the mirror finish so that there is a minimum loss of picture brightness.
The framed mirror TV is available in three standard finishes with our 19" Infiniti waterproof TV. The Infinity models have high resolution LCD screens, built in tuners, heated screens (to reduce condensation), and come with waterproof remote controls.
Want to change the frame? Contact us for details on our bespoke service for orders over ten units.
Product Gallery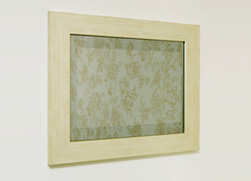 Click on the above image to view a gallery of images from the TechVision Framed Mirror range.
Easy Installation...
Our framed mirror TV's can be easily mounted or recessed into the wall for the flush fit. A great way to add a waterproof TV to your existing bathroom or kitchen without interrupting the design.